The Problem
+ No app, no website, no strategy — a product built completely from scratch.
+ No product market fit, no research, no user testing, should we even build this app?
As
Co-Founder and CPO
, I owned the full product and creative scope of Alpenglow. In close collaboration with the CTO—we envisioned and built this app completely from scratch through the Alpha phase of launch—starting with User Surveys all the way to building a full functioning Alpha release that utilized Natural Language Processing and Machine Learning to help folks enjoy travel planning.
Confidence —

relates to certainty around pricing and reliability of information, but also "
self-confidence
":
"am I able to navigate all the steps, stay organized and commit to the trip before doubt and overwhelm take over and stop me from finalizing the details of my trip?" "Am I staying in the right location?" "Will I be able to find the best activities to do at my location?"
Organization —

relates to sourcing and gathering up information from an array of disparate sites and services, having a sense of progress and seeing all the information in one place —
it's clear that everyone still organizes and shares their trip using a random selection of tools and methods
— suggesting that no one has successfully solved the problem of travel collating, collaborating and sharing to date.
›› travels mostly for work and / or friend/family events such as weddings or holidays. Often needs to collaborate heavily and wants to be privy to other people's activities and booking decisions. Requires budgeting and cost sharing amongst other travelers. Usually wants to find the cheapest method of travel, unless traveling for work (work travel is sometimes booked by the company)
›› travels to seek adventure and see the world; motivated by new experiences and seeing new cultures. Usually experienced and well-travelled. Gets off the beaten-track often. Loves to interact with strangers and do non-touristy things.
›› travels to do specific activities like sporting events, hiking a particular mountain at just as the colors turn, attending an upcoming music festival, seeing the cherry blossoms in Japan. Geared towards known events and specific dates. Usually needs to book early to avoid high costs and booking availability issues, but also happy to be spontaneous if the conditions are right.
›› travels for a mixture of the above reasons, none particularly in the extreme. Knows travel is good for them, so makes an effort when necessary, usually based on their own unplanned rhythm or when an opportunity arises with friends. Not always adventurous, likes to stick to typical tourist activities, and travels when time and costs are low.

Create.
Consider Alpenglow your new digital travel advisor. We help you create rich, detailed itineraries by distilling ideas, and laying out all necessary steps to finalize your trip.
Forward your booking confirmations
 or
simply type / paste written text into your digital notepad
. You start the process, and we help you finish it with recommendations and actionable next steps.
★★★
Future goodies:
Just-in-time notifications to help influence your decision-making, and expand your options for fun beyond the obvious. No plans Tuesday morning? How about a hike just down the road?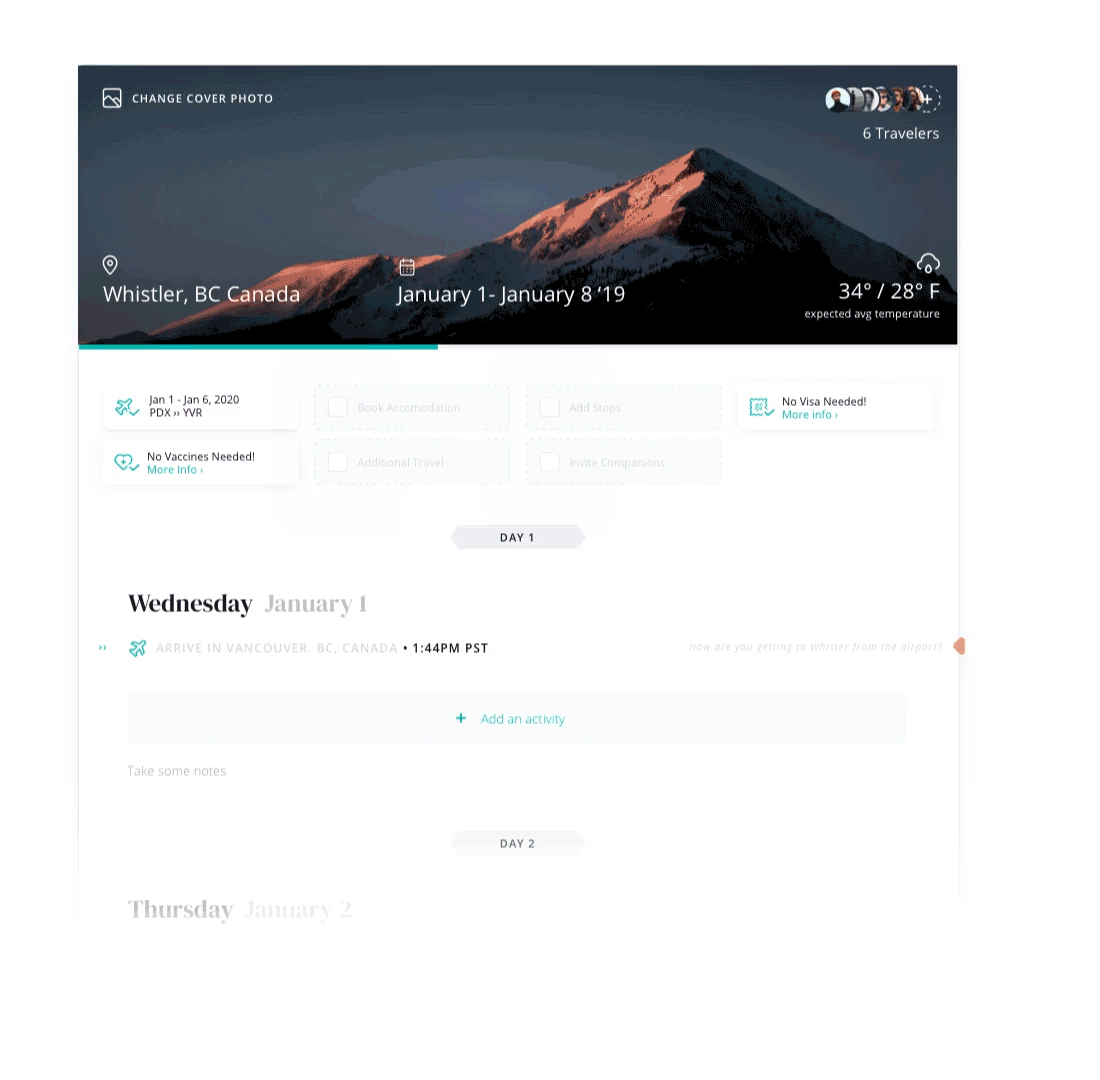 Consolidate.
Save places
 to your itinerary, 
organize
 your destinations by location.
Create perfect travel timelines from arrival to departure
: we've got your dates, times, addresses, daily activities and other important information organized into a single feed.
Use our
intelligent notepad
to explore ideas, easily type or paste loose notes (think group chats, blog posts and other important tidbits) to each of your trips.
We'll pull out the important snippets so you can drag & drop what you need into your itinerary.
★★★
Future goodies:
We're with you where you plan. More ways to ingest ideas and inspirations: use our browser extension to easily pull in content from popular websites, blog posts and social media platforms
Loran
Use our clever
input knowledge system
, code name Loran, to search or dump all of your travel notes and watch her parse all of your loose information into
tidy articular morsels of information
.
This machine learning system recognizes destinations, dates, activities, restaurants and more—easily drag and drop them into your itinerary!.


Collaborate.


Divide and conquer. Stay on track to guarantee a successful trip for all.
Eliminate the need for multiple spreadsheets, shared documents and group texts. Invite friends and 
plan together
. Let everyone contribute by suggesting favorite restaurants, sight-seeing stops and things to do, and by completing tasks.
Alpen... Go!
You have arrived! 
Access your itinerary offline
 and easily browse planned activities, saved stops and important documents.
Get notified of any changes you and travel companions make while adventuring!
​​​​​​​